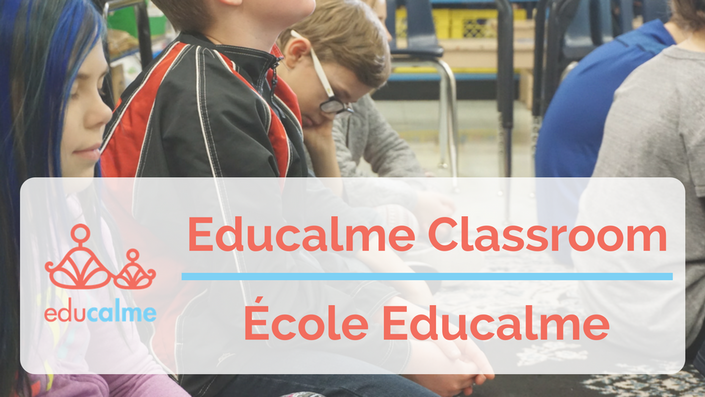 Educalme Classroom | École Educalme
Simply press play for a calm classroom | Cliquez sur ▶︎ pour une salle de classe calme
Watch Promo
Enroll in Course
This membership is perfect for you if you want a complete mindfulness curriculum for you and your students. Gain the building blocks for a calm classroom!
5 minute guided mindfulness practices fit easily into your day.
Reflection activities and additional resources help students deepen their learning.
Detailed and easy to follow lesson plans for each practice so that you feel confident even if you aren't a mindfulness expert.
This mindfulness curriculum is developed by teachers and used successfully with hundreds of school-aged children and teens.
Gain tools and strategies for coping with life's stressors mindfully.
Become more self-aware.

Learn about emotions and how to respond mindfully to big feelings.
Access the entire, growing library of Educalme curriculum from your computer or the Teachable iOS app so you can get back to feeling calm using the device of your choice.
---
Cet abonnement est parfait pour vous si vous voulez un programme éducatif complet de pleine conscience pour vous et vos élèves! Gagnez les outils nécessaires pour une salle de classe calme!
Les pratiques de pleine conscience de 5 minutes sont faciles à intégrer dans votre journée.
Les activités de réflection et les autres ressources aideront vos élèves à approfondir leur apprentissage sur la pleine conscience.
Les plans de leçons qui vont avec chaque pratique sont détaillés et faciles à suivre pour que vous vous sentez confiants, même si vous n'êtes pas un expert ou une experte dans la pleine conscience.
Ce programme éducatif est développé par des enseignantes et est utilisé dans plusieurs salles de classes d'âges scolaires et adolescentes avec succès.
Gagnez les outils et les stratégies pour gérer les stress de la vie.
Développez la conscience de soi.
Apprenez comment les émotions fonctionnent dans le corps et comment répondre à celles-ci.
Accédez notre programme éducatif entier de pratiques de pleine conscience de votre ordinateur ou de l'application Teachable iOS pour le retour au calme en utilisant l'appareil de votre choix.
Courses Included with Purchase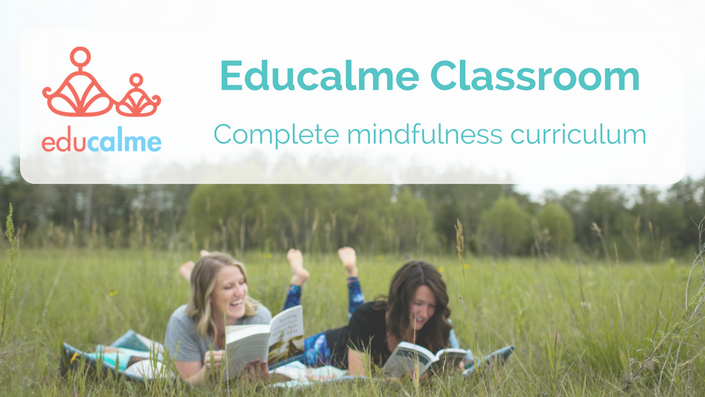 Educalme Classroom
Gain time to breathe with your students! This membership gives you full access to our growing library of Educalme mindfulness curriculum.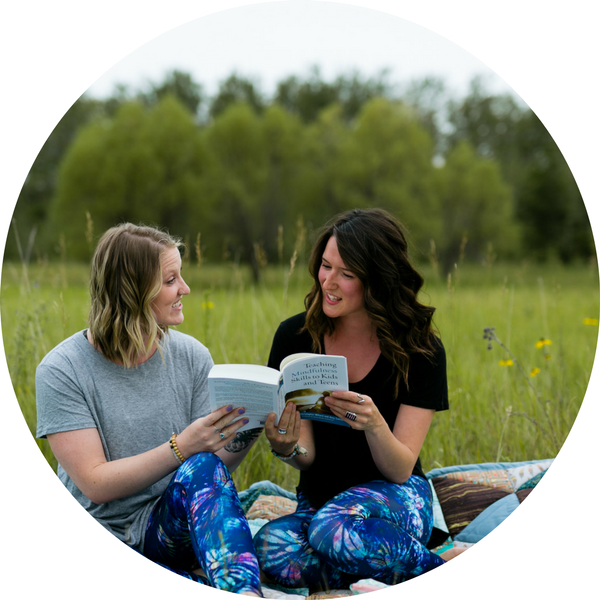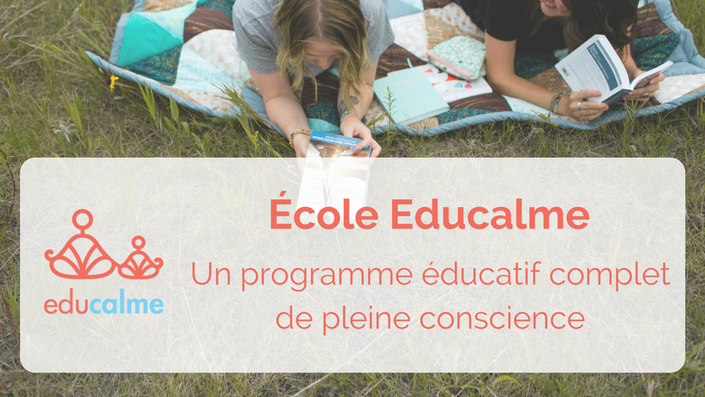 École Educalme
Gagnez du temps pour respirer avec vos élèves! Cet abonnement vous donne accès à notre programme éducatif entier de pleine conscience.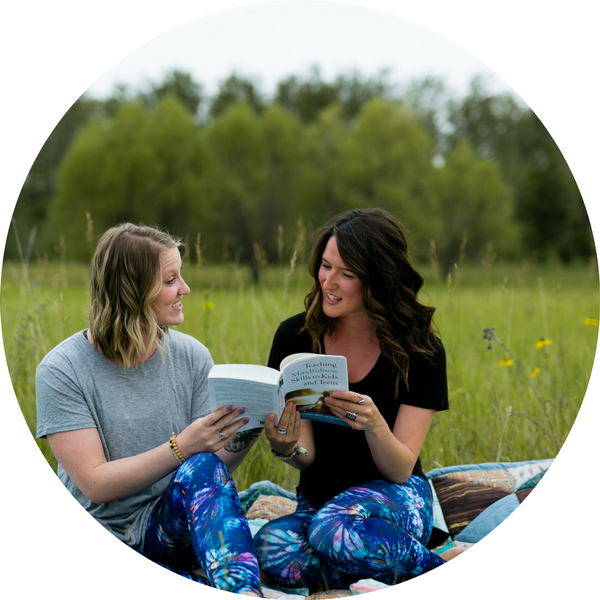 Original Price: $500
Your Instructors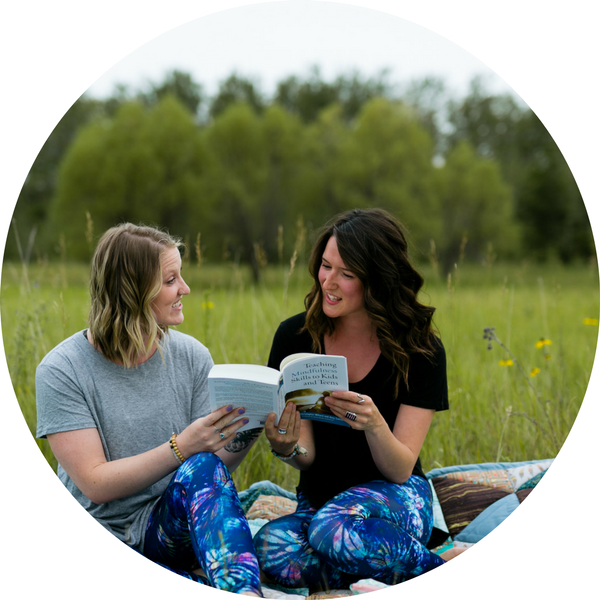 When finding a balance between their teaching careers and their personal lives became really challenging, Kailey and Josianne found mindfulness. They discovered calm and joy from this practice and naturally began teaching mindfulness in their classrooms. The amazing transformation they saw in themselves and in their students led them to teaching mindfulness to educators on a larger scale with the intention of cultivating mindful school communities.
Frequently Asked Questions
How long do I have access to Educalme Classroom?
Your membership starts now and only ends if you choose not to continue your subscription in the future. You have unlimited access to the curriculum for as long as you are subscribed - across any and all devices you own.
How many people is this membership licensed for?
Your membership is licensed for you only, to be used in your classroom and/or household.
Do you offer school or division licenses?
Yes we do! If you are interested in a school or division license email us at
[email protected]
and we will be happy to help you.
What if I am unhappy with the membership?
We would never want you to be unhappy! If you are unsatisfied with your purchase, contact us in the first 30 days and we will give you a full refund.
Pour combien de temps est-ce j'ai accès à l'École Educalme?
L'abonnement commence maintenant et fini si vous choisissez de l'arrêter dans le futur. Vous avez accès complet au programme éducatif lorsque vous êtes abonnés sur tous les appareils que vous appartenez.
Combien de personnes peuvent utiliser cet abonnement?
Cet abonnement est seulement permis à un utilisateur seulement (utilisé seulement par vous dans votre salle de classe ou dans votre domicile).
Est-ce que vous vendez des permis pour une école ou une division entière?
Oui! Si vous êtes intéressés d'avoir un permis d'école ou de division, envoyez nous un courriel à
[email protected]
et nous serions heureux de vous aider.
Et si je ne suis pas content avec l'abonnement?
Nous ne voudrions jamais que vous ne soyez pas heureux! Si vous n'êtes pas satisfaits ou satisfaites avec votre achat, contactez-nous lors des premiers 30 jours de votre abonnement et nous allons vous donner un plein remboursement.